When event planners get married, who plans the wedding?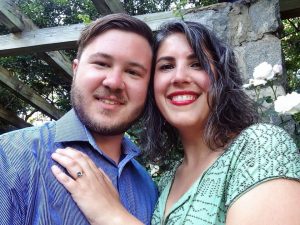 Do you remember the days following your engagement? Family and friends flooding you with congratulations followed by a well-rehearsed barrage of questions: Have you picked a date? Where are you getting married? Do you know what you're going to wear?
While I didn't have complete answers to those questions quite yet, I was prepared to divulge a few details. Six months of conversations dissecting hypothetical scenarios and a Pinterest board also helped answer many of those questions.
The one question I didn't know how to answer was, "will you be planning your own wedding?"
To some extent, don't we all plan our own weddings? I view weddings as launch parties for new brands – in my case, the Mor Aframian and Logan Smith brand (we're still working on a catchy name). I think people ask me that question because I am an event planner so they naturally assume that I will plan my own wedding.
Yes. I'm an event planner, and my life is ruled by a calendar of events ranging from Redress Spring Fashion Show to  Used Car Week Conferences to YogaFest Raleigh to the Women of Western Wake Luncheon. Large-scale conferences? Sure! Fashion show? I love herding cats! Planning my own wedding? Yes-ish? Maybe?
Planning any event, wedding included, is comparable to building a house on a sand dune while anticipating tidal waves. That statement might be understating the mental gymnastics required to take an idea and turn it into a memorable experience that gets companies excited to become sponsors while attendees create a buzz. Event planners are a walking encyclopedia of room set-ups, schedules, sponsor needs, important contacts, contingency plans, food and beverage menus, marketing calendar and the list goes on. Quick note: the next time you find yourself having a ball at an organized function, take a moment to thank the event planner.
Most event planners I know, myself included, have serious control issues, yet they picked a career in which potentially everything is subject to be beyond their control. They use a fine-tooth comb to review details, they leverage consistent repetition to minimize confusion, and they always have a Plan B – and sometimes Plan C. What I've learned over the years is that an excellent event planner:
Has the client's best interest in mind and can effectively communicate the client's vision
Knows how to produce the event within a given budget
Has good working relationships with a variety of vendors and suppliers
Knows that oftentimes picking up the phone yields better results
Knows how to improvise and solve problems on the spot (AKA putting out fires)
I've also learned that event planners are willing to endure an unreal amount of stress to produce a meaningful experience for others – jouncing to see happy sponsors, exhibitors and participants. Speaking from personal experience, it is possible to explode with excitement, pride and amazement when an event exceeds expectations.
That's what I hope for with my wedding – a memorable experience that will make my guests fall in love with Mor + Logan; fall in love with the idea of love; and dance until the venue kicks us out. For all those reasons, and to avoid turning into a bridezilla, I'll be hiring a wedding planner – and you're invited to share the experience with me!
I've already picked out a few dates on the calendar, looked at a few venues, and added a few more dresses to my Pinterest board. In the next few weeks I'll be reaching out to wedding planners and making a final decision on the superhero who will help me produce one of the best celebrations, and what I hope to be my only wedding.
Over the next several months (year+) I'll be sharing updates about the progress. I expect that we'll be going down memory lane, we'll share laughter and cries, and we'll all learn something about what it's like to plan an event.
If you ever have any questions about event planning, please don't hesitate to leave me a comment on this post or tweet me @MagicMor