Simple ad campaigns can promote your product's advantages
Advertising can be a tricky world, especially when you are trying to promote your business in the most creative way possible without confusing your target audience. When companies promote their businesses, they walk a thin line of comprehension or confusion when trying to create eye– catching visuals while communicating a direct message about their service or product.
Of the wide gamut of businesses, the larger ones usually reign supreme with their advertising efforts. Larger companies usually have a staff of creative minds or hire an advertising firm to create well–thought–out advertising campaigns to promote their service or product, with hopes of gaining recognition and increased profits.
Among large companies like Coca-Cola, Nike or Apple, the most creative advertising campaign I have seen so far in 2016 is for Play-Doh by TWO.AM Agency. The ads are brilliantly promoting that Play-Doh doesn't have the same technical issues that digital devices have when you're trying to have fun.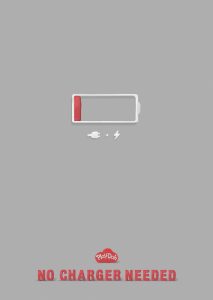 Click here to view all the amazing ads that TWO.AM Agency created for Play-Doh.
Using creative strategies like Play-Doh isn't only smart because it convey a message in a very simple way, but it also makes the target audience simply think about the product and why they should buy it. In this case, the target audience is parents whose children's day is dominated by digital devices. Using this as leverage, Play-Doh has found a clever way to deliver a simple message while potentially increasing sales to this target audience.
Like Play-Doh, there is an unlimited amount of successful advertising campaigns that make the potential consumer think and literally buy into the idea the advertiser is promoting. Though the final output of advertising campaigns can be simple and concise it takes time to plan and execute the vision of the advertiser through all outlets of exposure, including print, Web and social media.