S&A Communications wins eight InSpire Awards from NCPRSA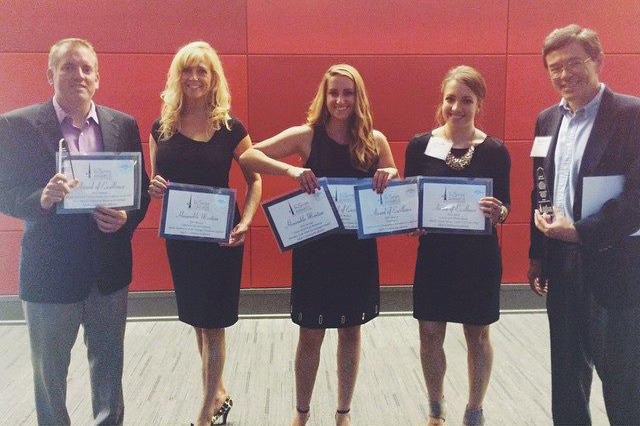 As a full-service integrated marketing company, S&A Communications employs professional marketers, graphic designers and public relations experts who are at the top of their game. At an awards banquet at NC State University's Talley Student Center on May 12, the company won eight InSpire Awards from the North Carolina Chapter of Public Relations Society of America.
The InSpire Awards honor the region's best efforts in public relations and communications. Bronze InSpire Awards recognize tactics or components of campaigns, while Silver InSpire Awards recognize entire campaigns.
S&A Communications was honored for entries in six categories:
Silver Award of Excellence – Events & Observances
Atlantic Tire & Service Ladies' Car Care Clinic
Bronze Award of Excellence and Best in Category – Media Relations (Government/Associations/Nonprofits)
9/11 Mobile Museum Returns to Raleigh
Bronze Award of Excellence and Best in Category – Brochures
North Carolina Vision 2030
Bronze Award of Excellence – Brochures
Cary Economic Development Recruitment Guide/Folder
Bronze Honorable Mention – Editorials/Op-Ed Columns
Local Law Firm in the Triangle Business Journal
Bronze Honorable Mention – Direct Mail/Direct Response
Precision Tune Meet the Manager Mailer
This year's awards competition drew 91 entries from a variety of companies, agencies and nonprofits throughout the greater Triangle region. The entries were judged by members of PRSA's Sierra Nevada Chapter.
"The fact that we won in so many different categories showcases the diversity of skills and talents that our staff possesses," said Owner/Principal Chuck Norman, APR. "It's an honor to be recognized for excellent work among such strong competitors in this market."