Logo no go for Tokyo 2020 until now
Creating the logo for the Olympics is definitely a big deal and the designer who has the opportunity to design the logo will gain immense exposure and potentially a larger client base. Though the Rio 2016 Olympics are around the corner in August, the candidate city for the 2020 Olympics is already chosen– Tokyo.
The Tokyo organizers now had the task of creating a memorable and timeless logo for the 2020 Olympics that will go down in history with all the previous Olympic logos. Japanese graphic designer Kenjiro Sano was given the once-in-a-lifetime opportunity to design the Tokyo 2020 logo.
With a graphic designer chosen, the Olympic organizers soon chose a logo concept that was bold and unique, or so they thought. Soon after the newly design logo was released to the public the designer was accused of plagiarism by Belgian designer Olivier Debie.  The logo Oliver claimed was plagiarized was one that he created for a Belgian theatre called "Théâtre de Liège."
Though Kenjiro claimed he had no knowledge of Olivier's logo, the Olympic organizers made the decision to not use the Kenjiro's logo. Instead of giving Kenjiro another opportunity or pursuing a new graphic designer the organizers chose to open a nationwide logo competition for the Tokyo 2020 logo.
After choosing four finalist, the Olympic organizers chose Asao Tokolo's design as the new logo. Now that they have chosen a logo that hasn't received any plagiarism claims, the organizers now can feel confident in moving forward with progression of the Tokyo 2020 branding.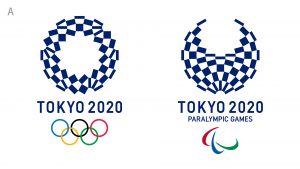 As a designer, researching a logo concept that you have is a necessary part of the process but doesn't promise that you will avoid claims of plagiarism. However, it is an important step to decrease the chance that of what happened to Kenjiro will happen to you.