For the love of Papyrus … or not
I read Meet The Man Who Created Papyrus, The World's (Other) Most Hated Font yesterday and besides having a good laugh at one of the quotes, it's a really interesting article. Chris Costello created Papyrus at the age of 23 during some downtime at his first agency job. In 1983 he was paid $2,500 for rights to the font and now, thanks to Microsoft, is used by billions of people – usually in the wrong way. It is still quite an accomplishment.
I'm not going to lie, I make fun of the font. A few of us in the office just had a laugh over getting a tattoo of the words "Comic Sans" in the Papyrus font.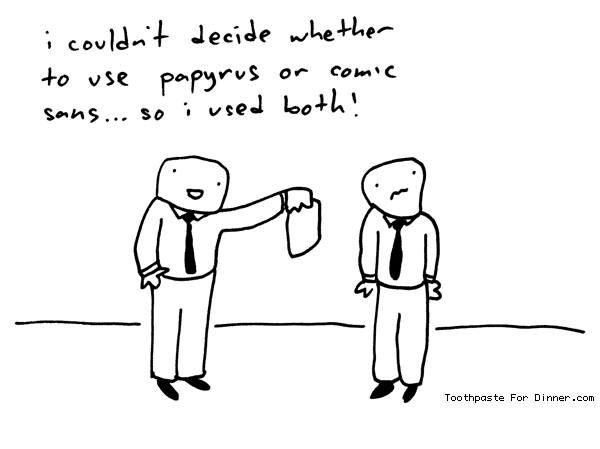 However, Chris Costello has far bypassed his fame as the creator of Papyrus. He's created four other typefaces and is an artist for the United States Mint.
We've all designed, written or given a speech that we may look back at and feel a twinge of embarrassment over. I've looked back at many pieces I have created throughout my career and cringed, but with every piece I've designed, I realize just how much I've grown as a designer. So, cheers to Chris Costello. May he continue to serve as an inspiration to us all in perseverance and artistic growth.