Five considerations for using digital vs. offset printing
We might be living in the digital age, but print pieces are still an important part of many marketing plans. To get your message into the right hands – figuratively and literally – a hard copy of your brochure, booklet, white paper or sell sheet may be just what you need.
However, making sense of the printing process can be daunting. Here are some things you should consider:
There are two methods of printing: digital and offset. Offset printing works by transferring ink from a metal plate to a rubber sheet, which then rolls onto paper. Digital printing, on the other hand, does not use a metal plate; it directly transfers ink onto the paper. The two main types of digital printing machines are HP Indigo (liquid ink) and Dry Toner (toner powder).
Whether you choose offset or digital printing, the finished products are remarkably similar. The differences become much clearer when you factor in price, time and budget.
Print quality
Presses like the HP Indigo have significantly improved the quality of digital printing. To the untrained eye, differences between offset and digital are practically undetectable. These presses can also match Pantone colors, giving you the accuracy you need without the added expense of creating plates and the time required to set up and clean the press.
Speed
Time not on your side? Here is where digital shines. There is no need to factor in press setup, making metal plates or mixing inks that are required with an offset press. Digital presses produce accurate proofs, so you can approve the piece quickly. Most digital jobs can be completed in three to five days from submission of the file to delivery.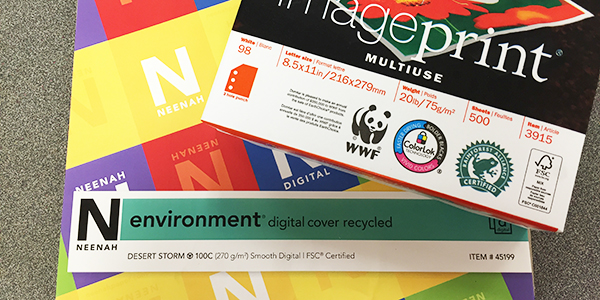 Paper
The range of paper options for digital presses continues to grow. There are a wide range of colors, textures and sizes from which to choose. There are also a lot of eco-friendly, FSC-Certified papers that can give your project a unique natural feel.
Minimum orders
With a digital press, there is no minimum order. This makes the digital process perfect for short runs of one to 1,000 pieces.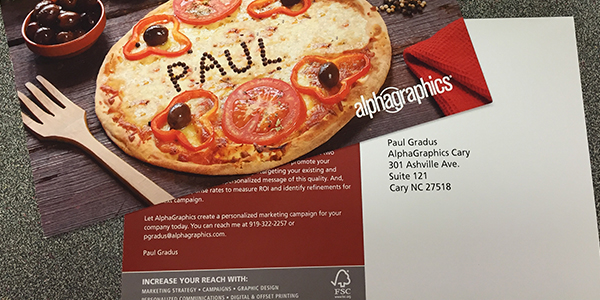 Personalization
Another strength of digital printing is the ability to use variable data. Text, graphics and images can be changed from one piece to the next, tailoring your message to your audience. Adding names and addresses on a postcard happens at the same time the piece is printed, which reduces production time.
Digital printing is a good choice for most of your everyday projects. Reserve offset printing for those special pieces that require high-volume, paper with unique textures, or larger paper sheets.
"In today's well-equipped and updated print shop, you have options," said Carol LeClair of Alphagraphics of Cary. "Print offers the ability to deliver rich, vivid images along with tactile stimuli."
The creative professionals at S&A Communications can design your print collateral and then work with printing companies to ensure the quality production of your piece. Contact us to get started.