Meet the Media: Alanna Vagianos at HuffPost
Alanna Vagianos is a women's reporter at HuffPost in New York City. She serves as a lead reporter on sexual violence, gender issues and other social justice issues across the HuffPost site. She also writes daily news and longer-reported feature pieces, and oversees social justice coverage on HuffPost's Trends team. Read stories by Alana Vagianos.
How did you find yourself as a reporter at HuffPost?
I went to school at Elon University in North Carolina and ended up majoring in Women's & Gender Studies. I was very passionate about womens' studies but was not sure how I was going to apply that passion to an actual job. I tried out two different internships, in the political sphere and the social work sphere, and I ended on journalism. I realized I could marry my passion for social issues and my love of writing. I lived in Los Angeles, worked at Ms. Magazine, and finally came back to my home state of New Jersey and applied to HuffPost through its fellowship program, and ended up getting the women's' associate editor fellowship position. Six months from there, they hired me on full-time.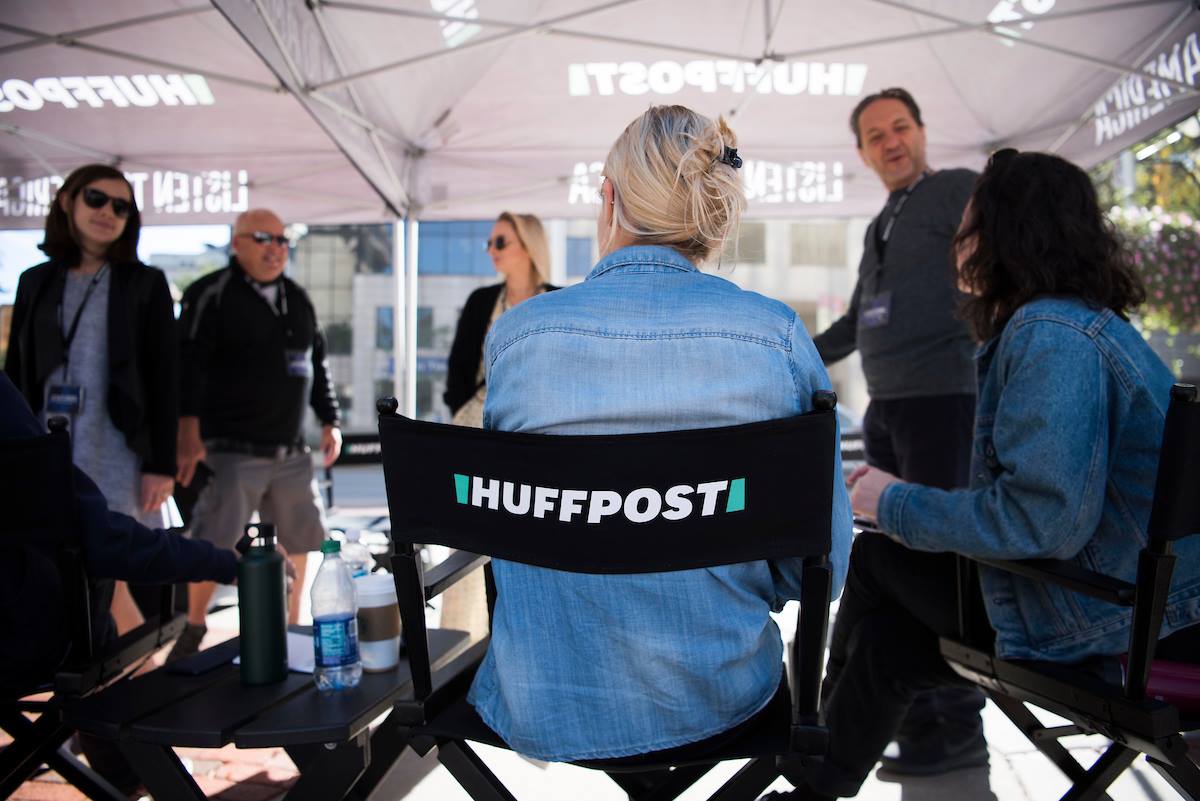 You said you worked in LA and traveled a bit. Can you tell me more about that experience and how it shaped where you are now?
I was out in LA. I was in an internship at The Feminist Majority Foundation and Ms. Magazine. It was a really great learning experience in that I realized I didn't want to work in LA. It helped me hone my craft in writing. I had to do an internship to work at The Feminist Majority Foundation, which is kind of like the grassroots organizing section of Ms. Magazine. I really loved doing that, but one of our bosses asked if I wanted to work for this magazine and I raised my hand, and that experience went on to be the foundation where I write about women's issues.
So far in your career, which of your stories are you most proud of?
Most recently, I wrote a piece about the former USA gymnastics doctor Larry Nassar who was just convicted on multiple child sexual abuse charges. I talked to about six or seven survivors before his sentencing. That story really helped push the conversation forward, and ignited the media attention around Nassar before the sentencing. A lot of it was really good timing, but as a women's advocate, I definitely felt that it was a great example of how my passion for women's issues and my ability/desire to stand up for survivors of sexual assault could turn into a product.
What would you say your writing style is?
I think I honestly haven't found it yet. I love to write snarky humor posts, but I write a lot of straight-up news posts. So, we'll see.
What is your favorite thing about your job?
There are two things I love. I work with amazing people, of all genders, but specifically, women who have really carried me on their back and lifted me up, women who truly can subscribe to the idea of good women in power. Also, I'm still surprised at 27 that I can do something that I love and I'm passionate about.  I think that I get to write about women's issues would be my absolute favorite thing about my job.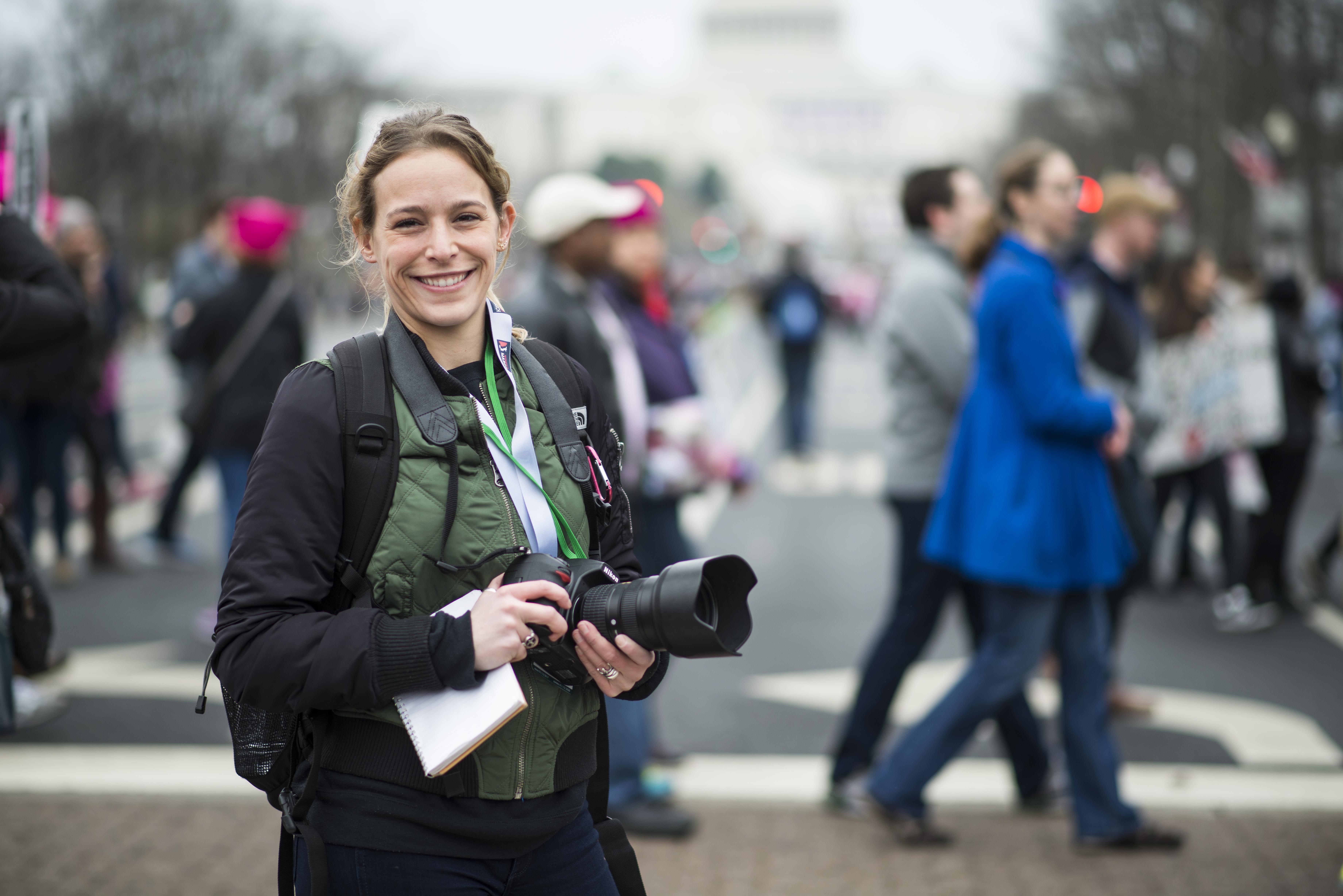 Do you have a memorable experience from your time at Elon?
I originally went to Elon to be a psychology major. That did not work out. I did not realize there was so much data and math involved. Right around my sophomore year, I was floundering, trying to figure out what's my goal … what did I want to major in … what did I want a career in? I met one of my professors, Dr. Amy Allocco. She is the reason I found my passion and graduated. Elon does not offer a major in women's studies, so I essentially created my own major. It consisted of a lot of hours of me by myself in the library. She was the one who oversaw my major and worked with me day in and day out for my 100-page thesis at the end of the year.
What is a day like at your job?
I used to be the women's editor, and I wrote a lot back then. Now, I'm a reporter, so my day-to-day is mostly writing. It's trying to find stories, whether by other news sites or get on the phone and interview different filmmakers or activists, or going to a rally and reporting on that. One of the great things about this job is you don't know what your day is gonna look like when you wake up in the morning. It really depends on the news cycle, and if there's a lot of news or if there's not. It's good and bad in that you don't know what you're going to do, so sometimes it's fast-paced and sometimes there's more work than you can handle.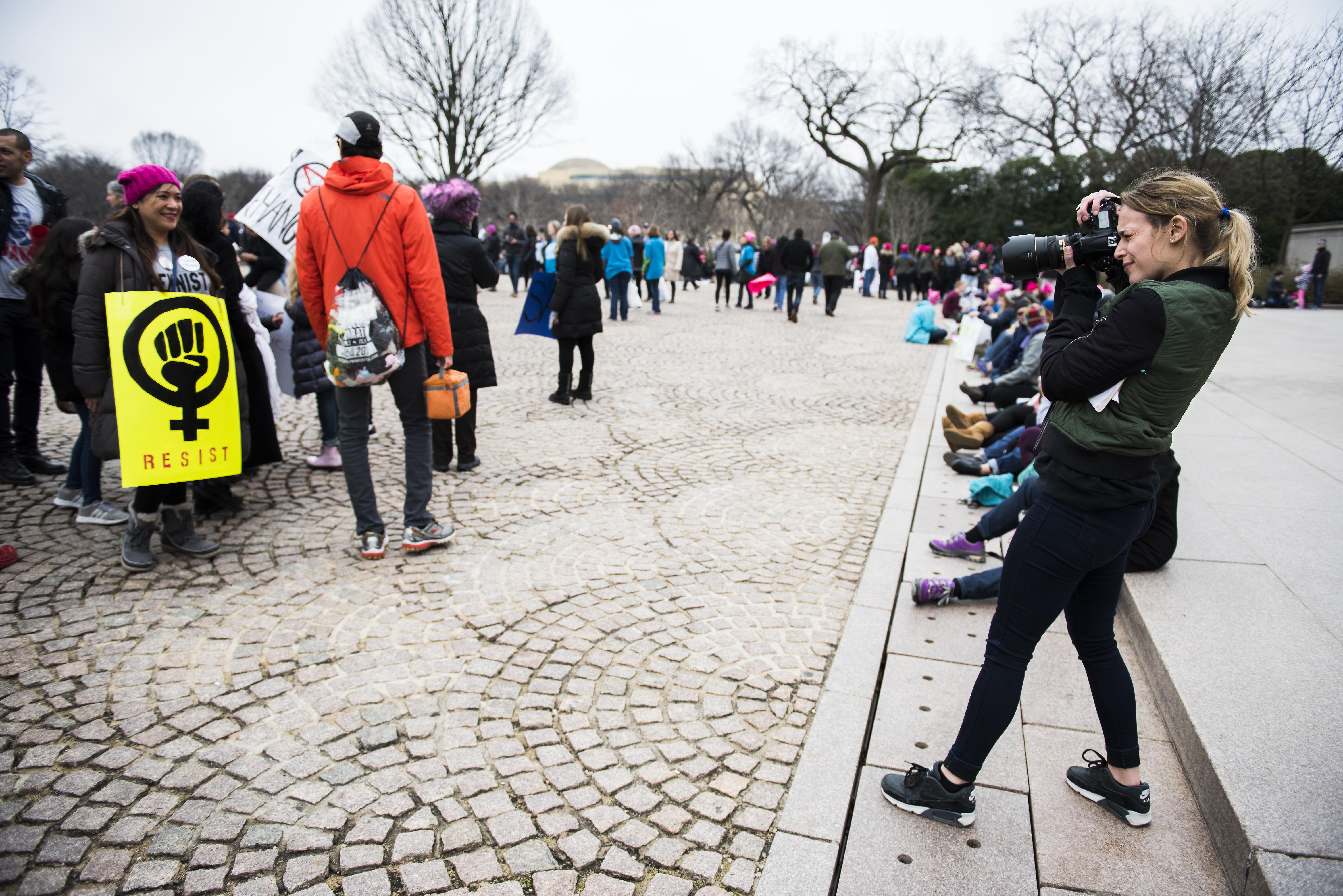 Is there anything you specifically look for in a story?
I look for womens' voices. I look for a good story from a woman who we haven't heard from. It's my personal mission to uplift the voice of marginalized people, but specifically marginalized women … women we don't hear from enough. Of course on the daily news grind, I write up quotes from Jennifer Lawrence to Chrissy Metz from "This is Us," and while those are still important, that is not sometimes what I am looking for. I try to amplify voices that don't get a platform.
If you could interview anyone, who would it be?
Janis Joplin.
Can you tell us about your dream assignment?
I don't really know. I'm trying to take everything day by day. I'm still forming what I want in my next five to ten years to look like. In general, the one thing I always subscribe to is talking to women and pushing the conversation forward about women's issues, trans issues, race issues. Trying to ensure that these social issues that are integral to an everyday conversation are centered in the work that I do.
Who inspires you? 
My parents are a really huge inspiration. Not to fall back on a generic answer, but it's true. My mom is a judge in New Jersey. She is one of the youngest female judges appointed in New Jersey. I think she was 34 or 35. She is still a judge. My dad is a really ambitious, wonderful, driven person. He went on to open a successful restaurant for 20 years. Now, he recently started getting involved in politics. They inspired me and pushed me to realize there are not too many limits to what I want to do as long as I work hard.
Tell me more about your background or interests/hobbies.
I grew up in Ridgewood, New Jersey. I have an older sister who lives in Brooklyn. She is also another wonderful inspiration in my life. I grew up playing sports. I was a huge tomboy. I was actually a competitive softball pitcher for most of my life. That definitely shaped the early part of my life. I love to be active. I also love going to music festivals and concerts. My boyfriend and I try to take a big trip once a year to travel to a music festival, which usually winds up with us camping somewhere really hot and gross.
What is your favorite thing about living in New York?
I would say the bars, but I think the overarching theme of New York that I love is that no matter where you are, everyone is completely different. They come from completely different backgrounds, completely different communities. Everyone has a really different story. Growing up in white suburbia, in New Jersey, and going down to Elon where it was much more diverse – but nowhere as diverse as New York – it has been wonderful to be surrounded by different people, sit down with different people, and get to know people with different stories. It's been energizing.